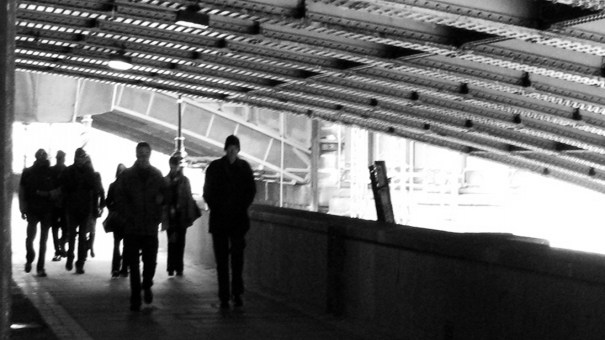 Millennium Bridge
OR LONDON'S BENDY BRIDGE
I'm always amused that the very ceremonious sounding Millennium Bridge became customarily renamed. Due to it's propensity to bend the 'Wobbly Bridge' appeared. Far more human sounding.
I thought I'd bend it a bit more.
---
PHOTOGRAPHY THAMES BRIDGES
Armed with an iPhone in London it's kinda impossible not take take at least a few smart shots wondering about about on the South Bank. The Thames bridges are amazing and if in doubt… look up! Huge girders everywhere.
Buying an iphone actually started to get me interested in photography. Having a dinky little camera, constantly in your pocket, suddenly makes photography accessible 24/7. Some of the shots here have been tinkered a little with in photoshop but, essentially, they're iPhone pics just using Apple's 'onboard' filters. They heavy industrial and Brutalist styles of so much of the South Bank make it virtually impossible not to find something stark an' stylish to photograph. Having noticed the #LookUp hash tag in Instagram I did indeed start to 'look up' an awful lot more. It's amazing what you totally fail to appreciate on a daily basis – and several of these shots are taken with the iPhone held 'face up horizontal' and jammed again the edge of some girders just to try and get the crazy upwards perspective of the Thames bridges across in the shot! Big industrial girders. Love it!